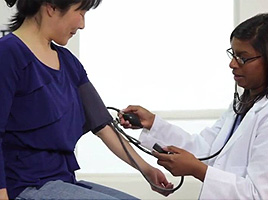 Hypertension [Video]
Hypertension is the medical term for high blood pressure. Blood pressure is the force at which blood flows through the large blood vessels from the heart. When blood pressure is high over a period of time, it can lead to health problems, including stroke. This video offers details about blood pressure, its importance to health, and what you can do to keep yours normal.
Certificate of completion
At the end of the video, a button will appear for you to click and get your certificate of completion. This certificate helps you and your employer keep track of your participation.
View video