A personalized well-being approach
Well-being is personal. We all have our own interests, our own health goals and routines that make us unique. But well-being isn't only your physical health, it's your mental health, too. 2 in 5 Kansans experience mental illness in any given year. 
Strive, powered by WebMD ONE, provides an experience that is unique to you – for both your physical and mental health.   
You'll find tools that will help you focus on your unique interests.
Whether you'd like to spend more time working out at the gym, find ways to relieve stress,
or doing anything in-between, Strive can be customized to match your unique goals.
Get Started
Blue Cross and Blue Shield of Kansas members can access Strive by logging into your BlueAccess account. If you don't have a BlueAccess account, register online.
Non-Members
If you are not a member of Blue Cross, but you need a Strive account to participate in employer health initiatives and rewards you can register for a Strive account.
Once you have an account, log in to Strive to begin your wellness journey.
What to expect the first time you log in
You'll answer a handful of questions about your background and health, as well as your current interests and priorities. WebMD will use this information to create a well-being experience that's unique to you, and point you in the right direction so you can get the most out of Strive.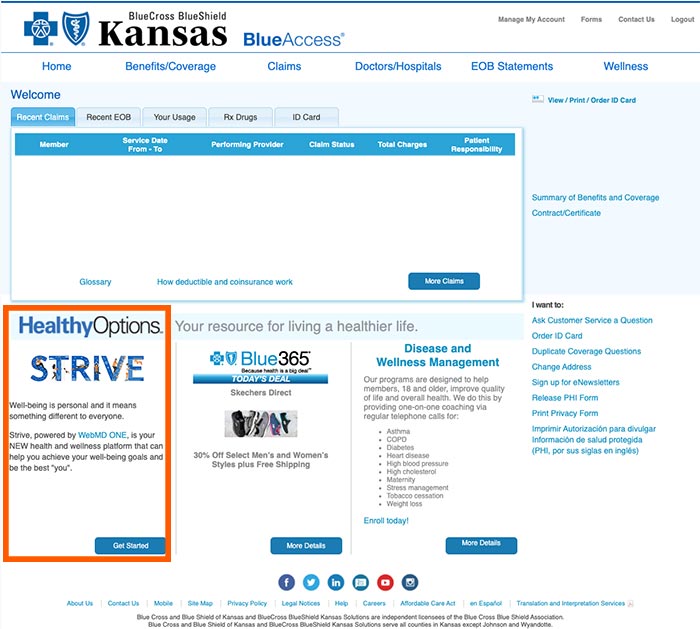 Interested in mental health resources?
Find mental health support with tools that can help you discover health and happiness.
This includes Just Five, an online, self-paced program, focused on increasing awareness and reducing stigma about addiction prevention and treatment. Just Five includes six five-minute learning experiences. The lessons combine animated and expert videos, interactive learning, and extra materials.
Blue Cross and Blue Shield of Kansas is an independent licensee of the Blue Cross Blue Shield Association. BLUE CROSS®, BLUE SHIELD® and the Cross and Shield Symbols are registered service marks of the Blue Cross Blue Shield Association, an association of independent Blue Cross and Blue Shield Plans. Blue Cross and Blue Shield of Kansas serves all Kansas counties except Johnson and Wyandotte. Strive, powered by WebMD ONE, is our health and wellness platform that provides a personalized experience to help our members build daily habits, achieve their health goals and thrive at work and life. WebMD ONE is our contracted vendor for this platform and is not affiliated with Blue Cross and Blue Shield of Kansas.