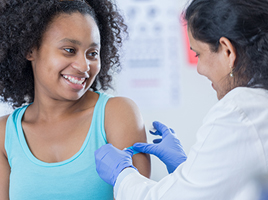 Immunize shots for school kids, preteens and adolescents [Webinar]
In this webinar, guest speaker Dianna Yates, clinical services team leader from the Shawnee County Health Department, will explain what and when adolescent immunizations are recommended. She'll also share a little about why they are safe, proven and effective. Make sure your child is protected. You'll learn about:
Recommended immunization schedule
Specifics about a few particular vaccines
Travel vaccines
Resources
Centers for Disease Control and Prevention (CDC)
CDC travel vaccine
American Academy of Family Physicians
Certificate of completion
At the end of the video, a button will appear for you to click and get your certificate of completion. This certificate helps you and your employer keep track of your participation.
View webinar