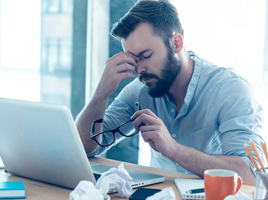 Workplace stress [Webinar]
Is work a main stressor in your life? If so, you're not alone. 65% of Americans cited work as their top source of stress. In this recorded webinar, we'll look at how stress affects your health — both mentally and physically. Then we'll discuss a variety of ways you can manage your stress — from communication to gaining new skills.
What you'll learn:
How stress affects your health
Main causes for workplace stress
Solutions for managing stress
Certificate of completion
At the end of the video, a button will appear for you to click and get your certificate of completion. This certificate helps you and your employer keep track of your participation.
Watch webinar