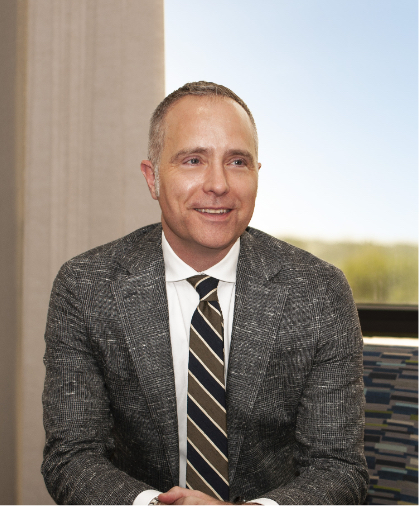 Matthew D. All
President/CEO
Matt All is a fifth-generation Kansan who brings more than two decades of experience in leadership and service to his role as president/CEO of Blue Cross and Blue Shield of Kansas. All, who joined the company in December 2006, became the eighth person to lead the state's largest health insurer when he became president/CEO April 1, 2018.
During his years with Blue Cross, All has had the opportunity to learn nearly every aspect of the business by providing executive oversight for a diverse array of business functions. Combined with his eight years of experience in state government, All is well positioned to guide Blue Cross in today's ever-changing health insurance marketplace.
All was promoted to president/CEO after serving as executive vice president with oversight of legal services, corporate governance, information technology, customer service, claims, membership, individual sales, and workforce and leadership development. In previous roles, he also has had oversight of human resources, facilities, government relations and corporate communications. He joined the company as vice president of legal services and general counsel, and was appointed corporate secretary by the BCBSKS Board of Directors in December 2007.
He was deeply engaged in preparing the company for the Affordable Care Act. He led the company's Health Care Reform Guidance Team, and represented the company on the national Blue Cross Blue Shield Association's Health Care Reform Implementation Task Force.
Before coming to BCBSKS, All spent several years in private legal practice and served in state government as assistant insurance commissioner and chief counsel to the governor.
In addition to his role as president/CEO, All serves in leadership positions for the company's subsidiaries. He is chairman of Advance Insurance Company of Kansas, chairman/CEO of BlueCross BlueShield Kansas Solutions and president of the Blue Cross and Blue Shield of Kansas Foundation.
He also represents BCBSKS on the boards and committees of several national organizations. He is director on the Blue Cross Blue Shield Association board and a member of the BCBSA strategy/mission committee, national employee benefit committee and CEO collaborative team.
All serves on the Prime Therapeutics LLC board of directors and human resources committee. He also is chairman of the Western Conference Board of Trustees.
Closer to home, All serves the community in a variety of ways, sitting on the board of directors of the United Way of Greater Topeka and the Topeka Chamber, chairman of the University of Kansas Honors Program Advisory Board, director of the Kansas Insurance Education Foundation and member of the Topeka Chamber Nominating Committee. Since 2002, he has been a lecturer at the University of Kansas School of Law, where he teaches insurance law.
He is an avid supporter of the arts, having served on the Friends of the Spencer board at the University of Kansas, and performed at the "Dueling Dukes" and "Dueling Duos" fundraisers for Theatre Lawrence. He also has coached little league baseball, softball and soccer.
Raised in Augusta, All received his bachelor's degree from the University of Kansas and his law degree from Yale Law School in New Haven, Connecticut.