A Refocus on Our Core Values
At Blue Cross and Blue Shield of Kansas, we are committed to putting people first. Our members, our employees and the people of Kansas are our top priority. To ensure we live up to this commitment every day, we decided to update and affirm our core set of values in 2019. This allowed us to maintain our already strong traditional values as well as focus on meeting the needs of Kansans today. As part of the process, we surveyed the people who know us best: our employees. This invaluable feedback helped form the five values that drive and guide our company: integrity, service, dependability, growth and progress, courage. These five values inspire all we do, from the choices we make for our members, to the strategies we pursue for the future, and how we treat our colleagues with respect and friendship. We use them to recognize great work and celebrate our successes. We strive to live them, every single day.
Integrity
Integrity resonated deeply with employees across the organization. It is intentionally stated first because without integrity, we are rudderless, adrift at sea. If we live and operate with integrity, we build trust among our members and each other. With integrity, we further our already strong reputation and can achieve accomplishments with pride. It also means treating our co-workers and customers with respect. It is an opportunity to continue to strive to be a better company in everything we do.
Service
Service means so many things to us. First, it means providing the absolute best service we can to our customers. It means treating them with respect and compassion and striving to give them the answers they need. We should never underestimate what kind of difference that makes for them, especially when they're going through the stress and worry of a major health event. Second, service means serving our community the very best we can. Our company was built by the communities of Kansas decades ago, and those ties to our communities have remained vital and robust over the years. Few companies are as committed to improving the communities of Kansas, and to helping others in their time of need, as we are.
Dependability
Dependability is a core value that we describe as "foundational" to our organization. Along with integrity and service, dependability grounds us and allows us to operate for our employees, our members and our communities. Dependability means we will always be there to support all Kansans. When our members need us, they or a loved one are often sick and feeling vulnerable. In that instance, it is incredibly important for us to do exactly what the member needs and to be there to assist them and make life easier. But, it's just as important for us to be dependable when times aren't tough. We strive to remain consistent and dependable in every action we take.
Growth & Progress
Our fourth value, growth and progress, exemplifies what we are always trying to do as a company and as individuals. We strive to be better versions of ourselves and a better company than we were the day before. None of that can happen without a willingness to be better through consistent effort.
Courage
The final value that we established was courage. More than anything, courage represents our willingness to adapt and meet any situation. Courage means being willing to tackle subjects even when they're uncomfortable. It means continuing to push ourselves out of our comfort zones into a situation that may be unfamiliar.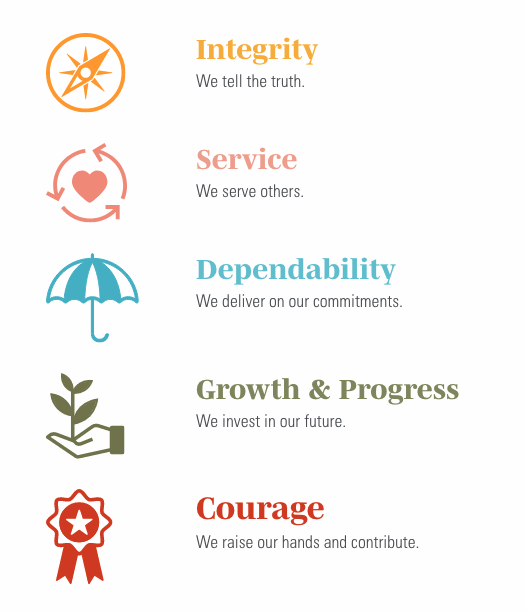 Let's chat about you becoming Blue!
Don't be shy, call us to speak with someone about where you might fit in at Blue Cross and Blue Shield of Kansas. You might be surprised – we hire at all levels and have a wide-variety of positions available.
Call us
785-291-8085
Got questions about the process?
We've got answers. Need more info on how to apply at BCBSKS? Want to know what happens after submission? Curious about our benefits? Review our frequently asked questions.
BCBSKS is an Equal Opportunity Employer. All qualified applicants will receive consideration for employment without regard to race, color, religion, sexual orientation, gender, gender identity, pregnancy, national origin, age, or protected veteran status and will not be discriminated against on the basis of disability.
If you are an individual with a disability and would like to request a reasonable accommodation as part of the employment selection process, please email us at [email protected].